Rainbow Color Wheel
Created a rainbow flowing product display for a local company that sells Color Wheels for artist worldwide. 
The Color Wheel Company.
These are 3/4 inch thick with a LED Pixel strip running around the inside of the circle with a white acrylic front. The small one is 6 inches in diameter and the large on is 10 inches. The front is a stencil cut from black cardstock.

Our Rainbow Wheel page shows with different stencil designs.
If you have a idea for a application we can create a stencil for your custom design. 
The Light Mandala multimedia schulpture colaboration made for a local Da Vinci Days festival. It was 60 feet wide utilizing intelligent lighting and an original synchronized sound track. Took all summer to build in my backyard. This was programmed with DMX512 protocol.
It utilized 3 foogers, 12 water jets, 4 DMX 500 watt moving mirror light and 6 color changers.
World Lotus multimedia colaboration  installation for a 3 day local Da Vinci Days festival. It featured synchronized lighting and music. It had a set of 8 small leaves and 4 large leaves plumed with fog that opened as the show began. It was made to resemble a lotus flower.
We have installed over 30 local kitchens with under counter LED lighting.
Here is a sax colaboration with 2 friends. One did the painting and another did the glass sculpture, I did the programmable LED that goes inside and illuminates the glass.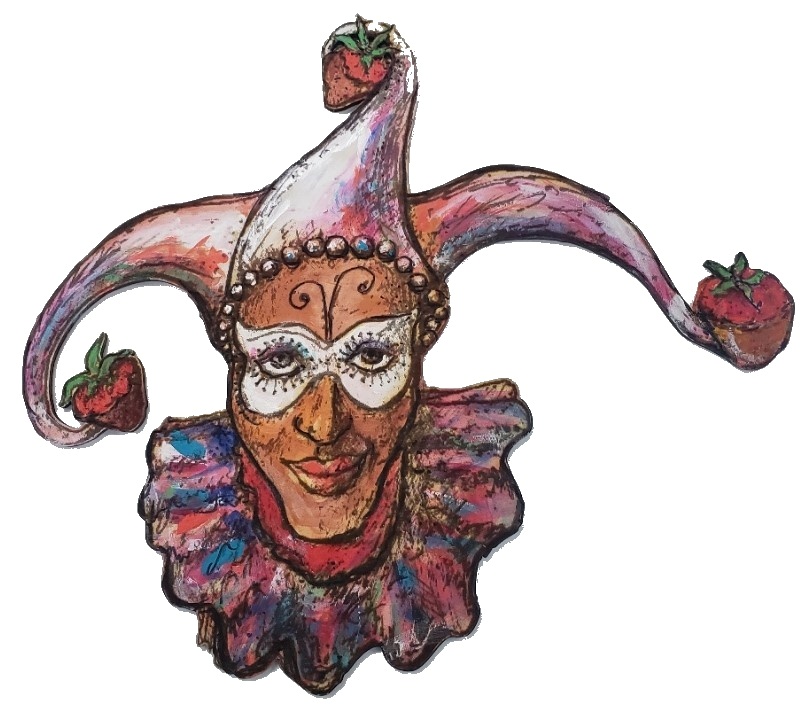 Here is a amazing piece we cut out by taking a photo of the original piece and then converting it to a vector file to cutout with our laser. We also created the black line included on the orginal. We engraved the inside and cut the outside.
Large outdoor Heart Wings
This is a 12 foot diameter red heart with color changing wings that I made for a friend that made the structure out of rebar in a rosebush.
Bee Kind Flower
This is a 2 foot diameter flower and bee laser cut shape I cut out of 1/4 inch plywood that my friend Earl Newman painted and won first place in a community local art contest. He also painted the heart wings and heart tree below. earlnewmanprints.com
Illuminated Cross
This is a cross that a friends mom asked me to make because their previous cross was stolen. It was made with a wood frame and a white acrylic front illuminated by LED's mounted inside the case.
Heart wings, 2 feet wide laser cut out of 1/4 inch plywood and painted by the same friend that did the heart and flower. He is the amazing artist Earl Newman. 
Here are the laser cut file and the cutout of a bass fish I created for a friends dad who loves to bass fish. The inside is etched and then the shape is cut out.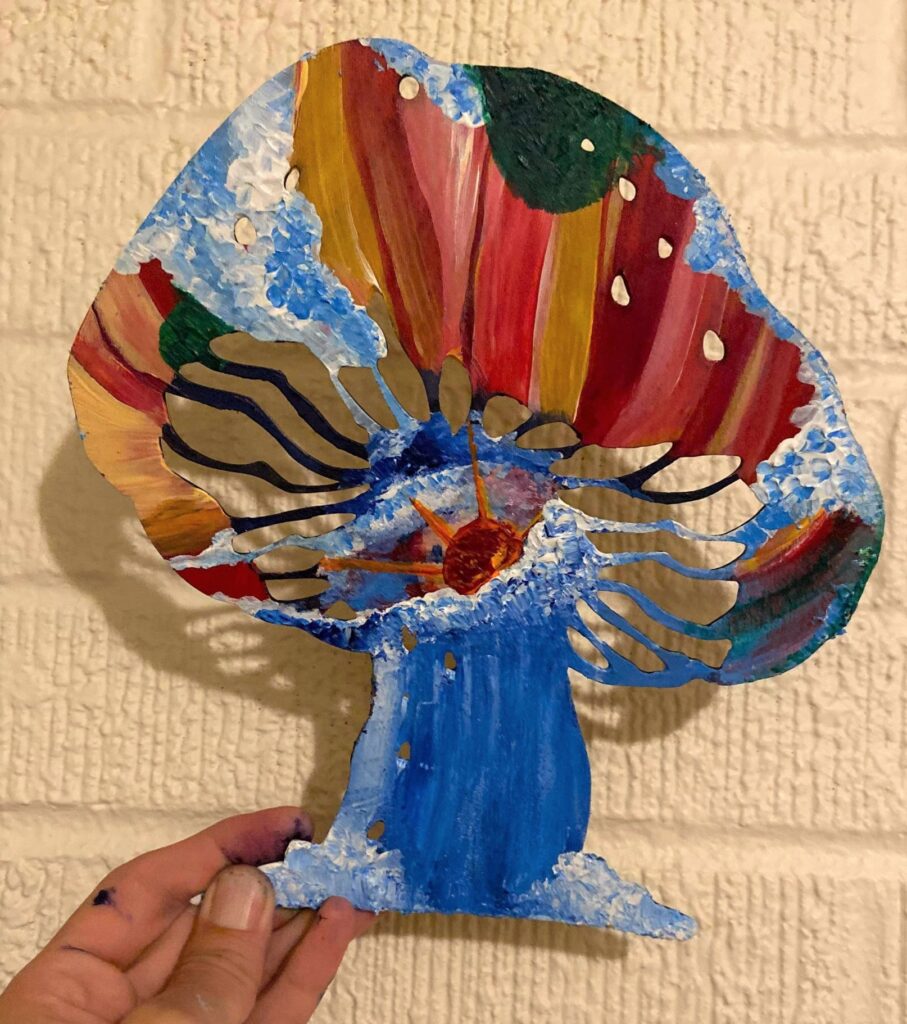 Here are 2 beautifully painted laser shapes. We plan on having these for sell here soon.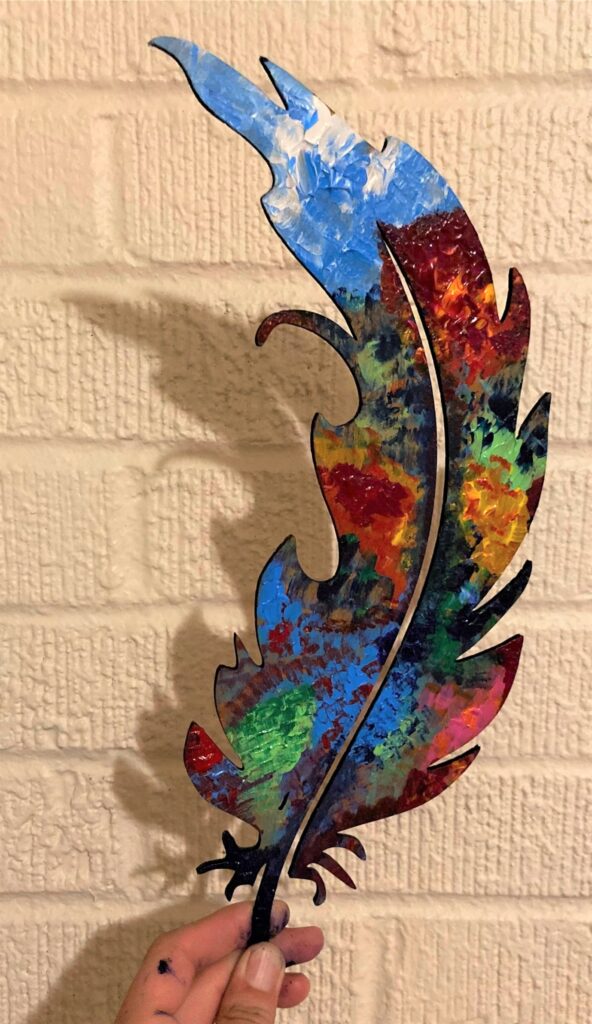 Here is one of our Fiber Optic Chandeliers. It has a glass whale illuminated by a color changing LED along with the fiber. Click on the chandelier to see more of our chandeliers.
Back lit sihouette that is mouted on a piece of white acrylic that has a programable Pixel light for selecting beautiful color blends. I created these but have yet to add them to my product list.
This is a 2 foot tall tree of life in a heart I laser cut out of 1/4 inch plywood that my friend painted.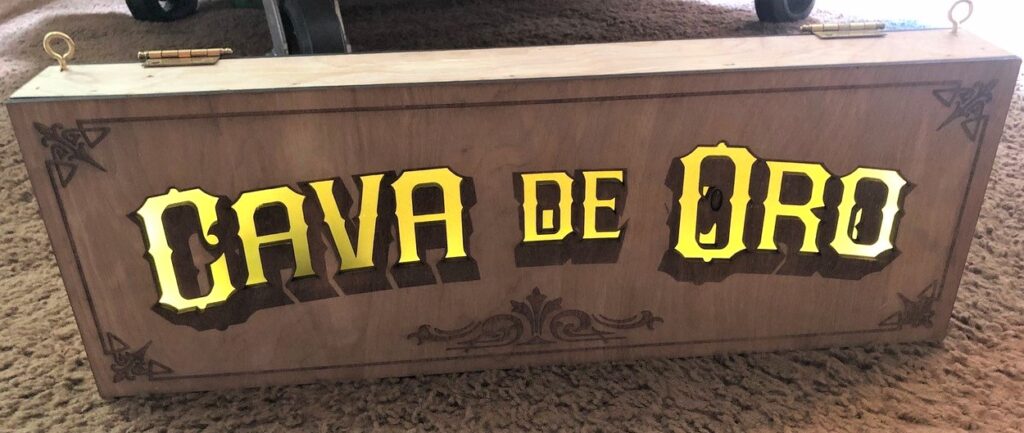 Cava De Oro is a sign I made for my friend Brad at http://www.bradjohnsonsigns.com/ for his camp at the local 2022 Oregon Country Fair. It is 6″ by 22″ and the letters are cutout with LED's inside to illuminate them.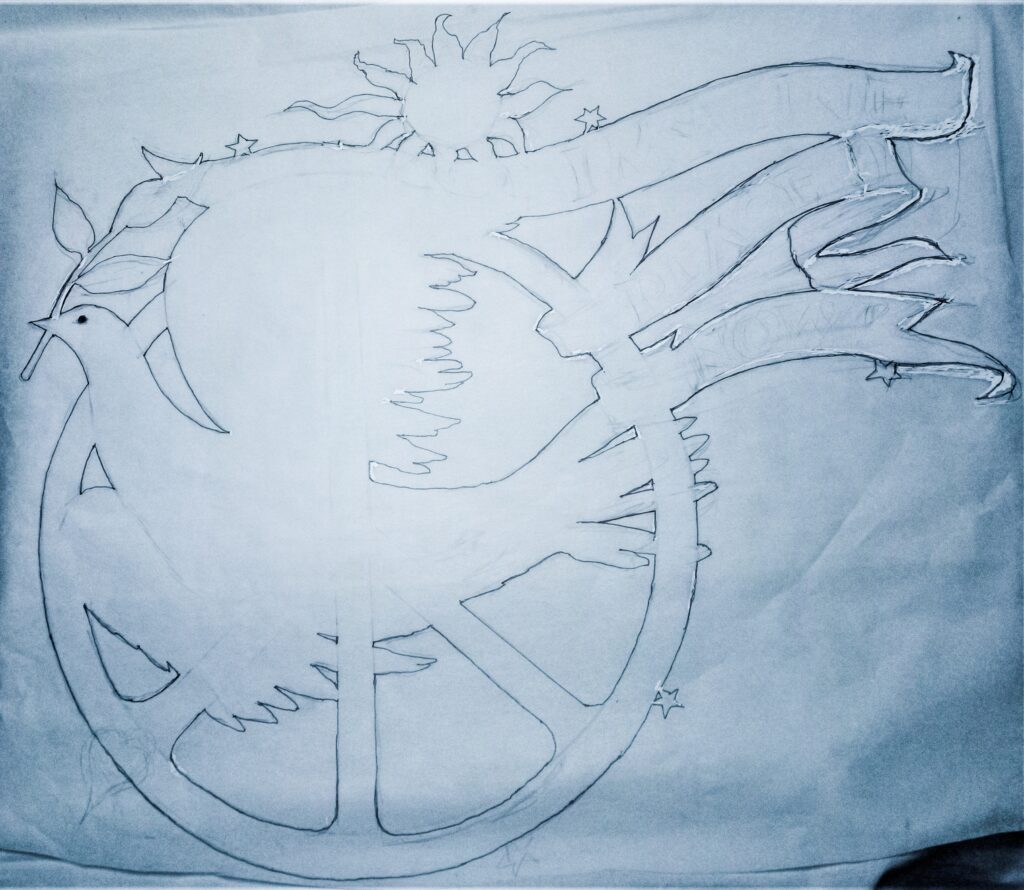 Peace Dove:
Here is a peace dove cutout that I was able to make after photographing the artwork and converting it to a vector file and cutting it with my laser.

Product display box:
Here is a engraving job we did for a CBD company.